Detailed history of clifty falls state park
During the 1830s large numbers of Americans headed west, and they passed through the Ohio River Valley or through Indianapolis. From 1836 to 1847 Indiana built and operated the Madison and Indianapolis Railroad, which connected the two major routes west. However, the dangerously steep 7,ooo-foot incline ascending the 400-foot hills out of the Ohio River Valley at Madison was troublesome to traverse and maintain. 
In 1852 John Brough purchased the railroad with the agreement that he would build a different route out of the Ohio River Valley. The route he planned included a section going up Clifty Canyon. Over 700 men began working that year to transform the rock and land into a passable route. However, by 1854 the project was way over budget, and not a single railroad track had been laid. Work stopped and the Madison and Indianapolis Railroad declared bankruptcy.
The most notable remnant from this failed project is the 600-foot tunnel through the rock under Oak Grove. Located on Trail 5, you can hike through the tunnel by flashlight (on your own, or in a tour led by park naturalists). However, it is closed from November 1st to April 30th to protect the hibernating bats from the fungus that causes white-nose syndrome.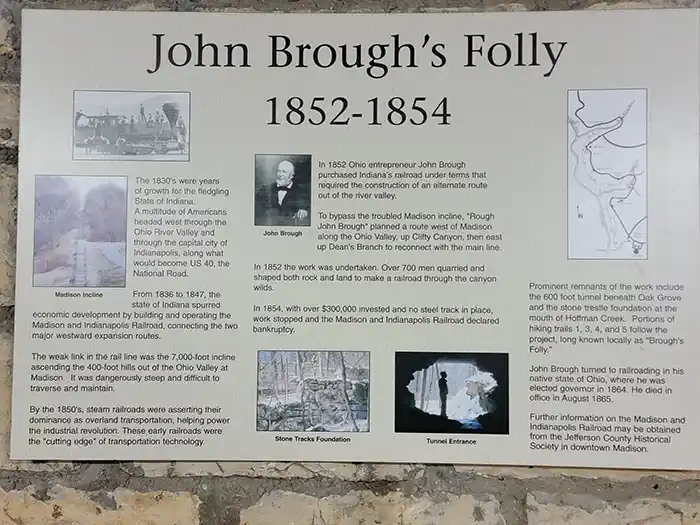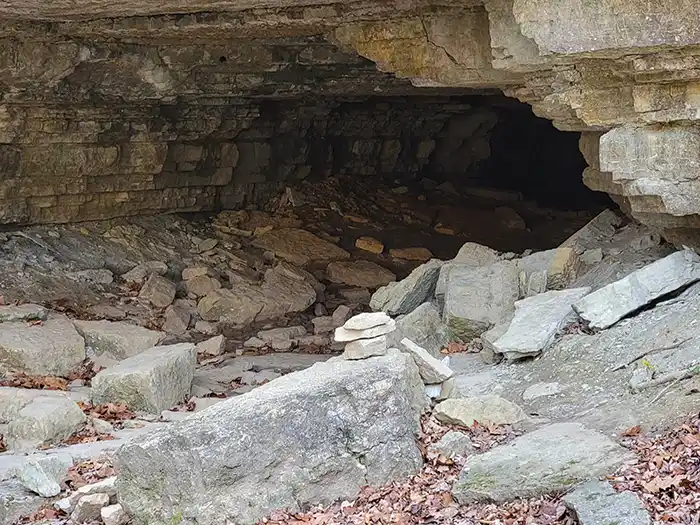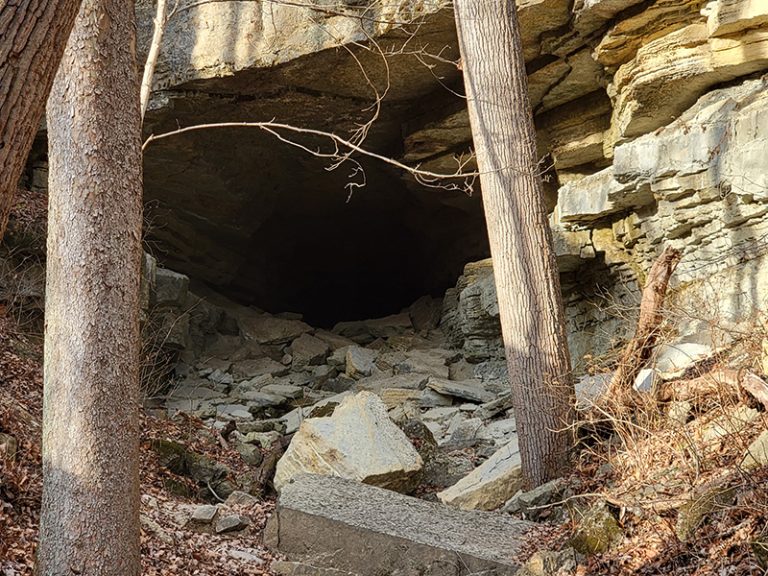 Civilian Conservation Corps 1933-1940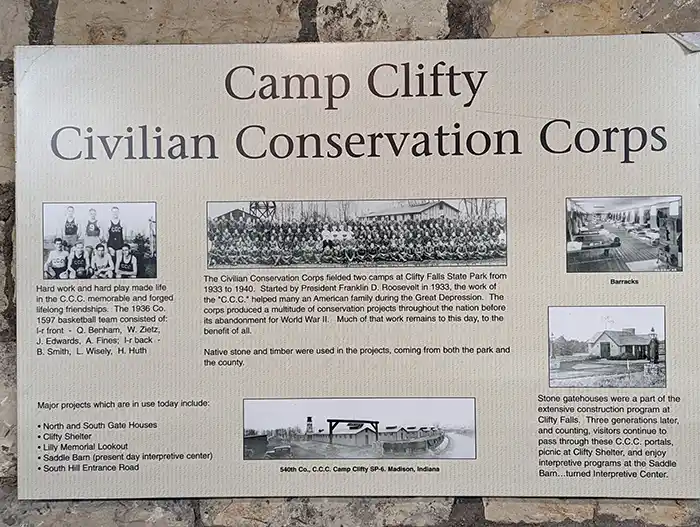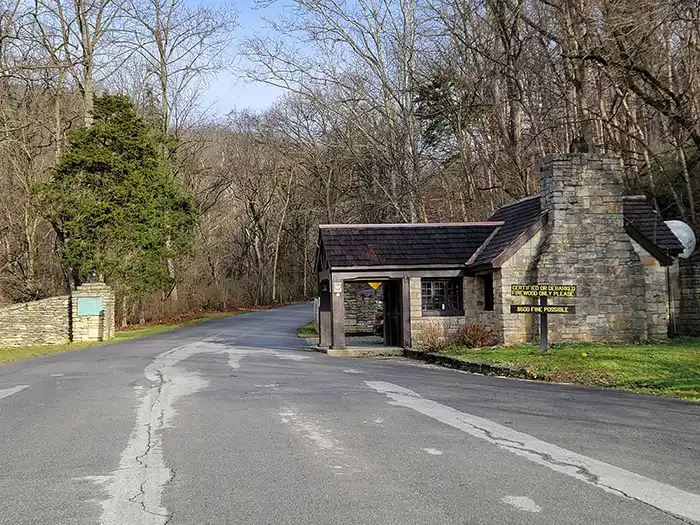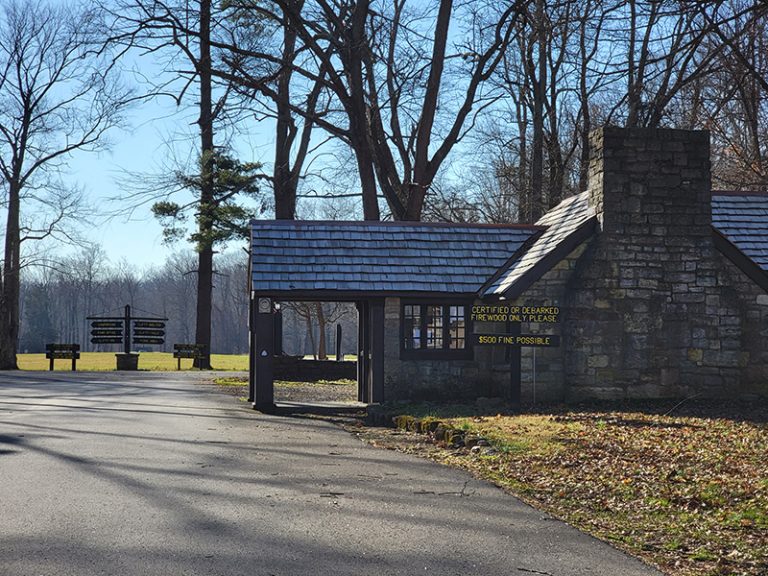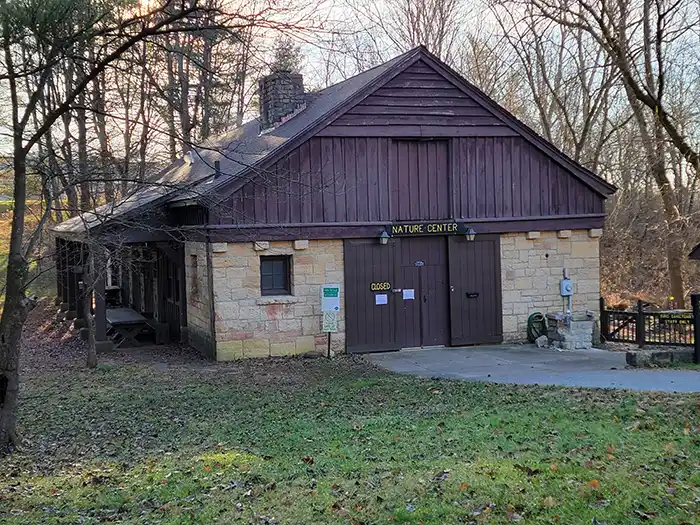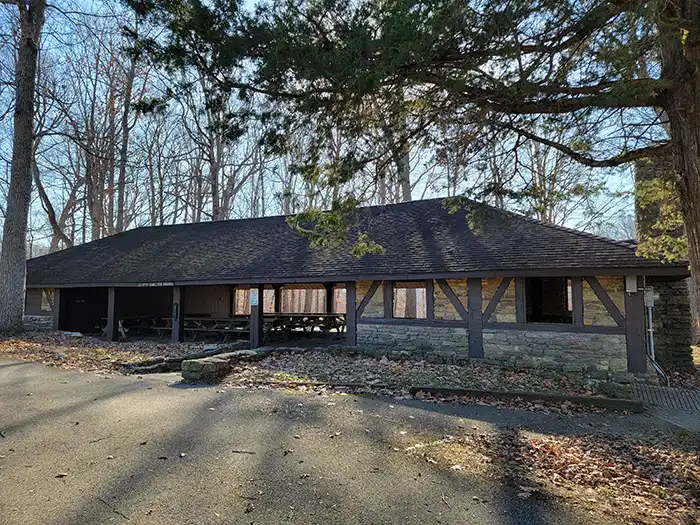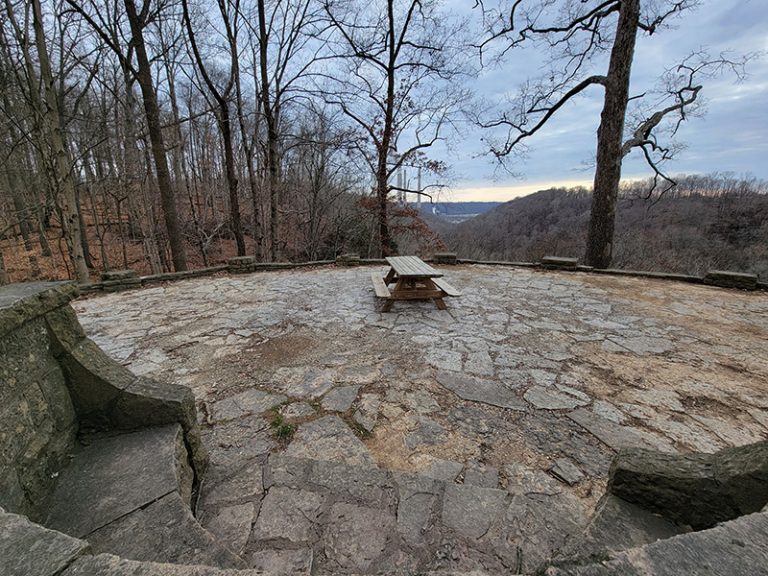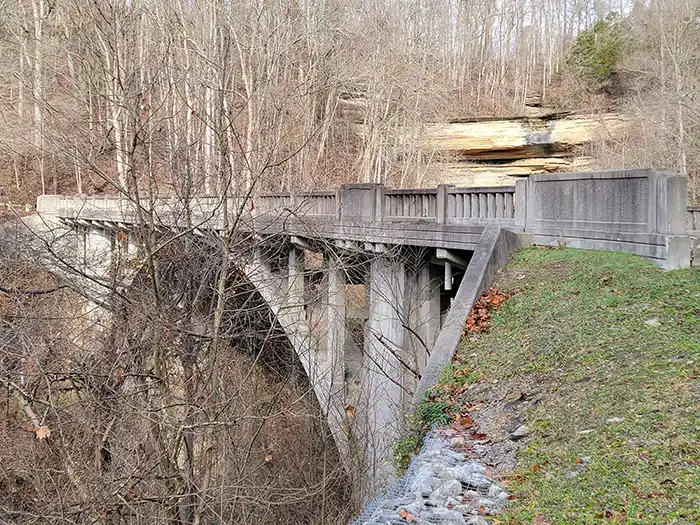 The Civilian Conservation Corps (C.C.C.) was started by President Franklin D. Roosevelt in 1933 as a way to help American families that were affected by the Great Depression. People were paid to work on conservation projects throughout the country. Many of the projects in Indiana were at State Parks, including several at Clifty Falls.
Native stone and timber were used in the construction, and several of the projects still stand and are in use today. The projects that remain at Clifty Falls State Park are:
North and South Gate Houses
Nature Center (formerly the Saddle Barn)
Clifty Shelter
Lilly Memorial Lookout
South Hill Entrance Road
Development of Clifty Falls State Park
Founded in October 1920, the park was created with 617.54 acres of land that primarily contained the canyon and its waterfalls. In later years a large wooded area obtained from the State Mental Hospital in Madison more than doubled the size of the park. The park continued to grow over the years, and it now encompasses 1,519 acres.
Clifty Inn was first built in 1922 by Colonel Richard Lieber, creator of the Indiana State Park system. He converted an old stone farmhouse on Thomas Hill into six bedrooms, a dining room, and a lobby. There was an overflowing crowd every weekend.
Due to a large number of visitors to the hotel, an adjoining barn was remodeled in 1923 to provide 16 additional bedrooms. In 1924, with money raised by local residents, the newly built Clifty Inn opened. The magnificent brick hotel on the bluff overlooking the Ohio River and Clifty Creek then offered 32 comfortable rooms with spectacular views, as well as a dining room, lobby, and large porch.  Three years later the hotel was expanded with more floors and guest rooms.
At least one famous person was a guest of Clifty Inn. First Lady Eleanor Roosevelt and two female friends stayed at the hotel on July 7, 1934. They were passing through Madison on their way from Lexington, Kentucky to Indianapolis.
Between 1933 and 1940, two C.C.C. camps worked on constructing roads and various structures inside the park. Many of their accomplishments are still in use today. 
By 1966, at a cost of $700,000, a new, a 36 room motel-style building was added to Clifty Inn. At this time it became known as Clifty Inn & Motor Lodge.
on April 3, 1974, a devastating tornado ripped through the park and Clifty Inn had to be replaced again. At this time horseback riding was also suspended, and the saddle barn space remained unused for a while.
In 1975, Clifty Inn reopened and a new building called Riverview was constructed, and added to the complex.
An expanded family campground opened in 1976. The camp had 107 modern spaces and 60 primitive sites, plus two comfort stations. A building was also constructed to house the park maintenance offices. At the same time, an outdoor Olympic-sized swimming pool, bathhouse and concession building  opened as well.
In 1977, conference facilities were built in a new wing at Clifty Inn.
On October 29, 1981, the old Saddle Barn reopened as the Nature Center.
Clifty Inn was completely remodeled in 1999 at a cost of $2.4 million. Changes included a new indoor pool for guests. The outdoor pool was also renovated, and two fantastic water slides were added.
In 2006, a complete $8.8 million renovation was done to Clifty Inn. The old Riverview building had been demolished to make room for a new section of the hotel that had 37 rooms and 3 suites.  The conference center was also replaced with a new, modern conference center, secondary meeting room and other on-site amenities. This is the Clifty Inn you see today.